"I SAY THROW IT DOWN."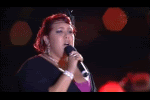 "All mah people in the club"
Cassy is performing at the Closing Ceremony, what what WHAT? Cassy "Casey" Donovan? Where is Dannii? Oh sorry, we forgot - she's fully occupied putting the "finishing touches" on her alleged "album" - something that has apparently kept her completely occupied for the past two years. At least Cassy WANTS a career in the music industry. Sometimes, Dannii, we find it hard to say the same for you.