THINGS:
So, we are in New York City for a couple of hours still, and we have to tell you that there is no doubt that this is THE BEST CITY EVER. We will perhaps make arrangements to move here, as they say in some circles, "forthwith". We even have come to like coffee poured out of a jug! You know the kind? Yes! That! Get out espresso, come in PERCOLATING JUG! Our brains are operating in a faintly circuitous fashion presently, so forgive us if this is all a bit of a glittery shemozzle, but we are pleased to present: Other important things for you to know:

1. We have converted at least 5 busy New Yorkers to Kiss the Giss 2006.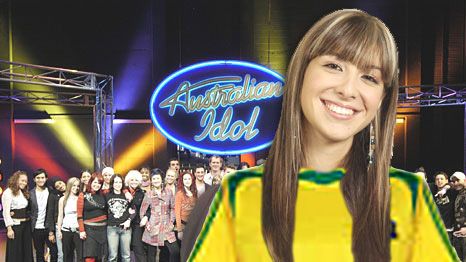 However, we have to make sure that everyone supporting her understands that there's no great joke in Kiss the Giss, ie, we really want her kissed (by the job of Major Sporting Ceremonies Singer)! We sincerely love Laura, her fringe and her talent so much and have been thinking about her every day here. It's very important that this is not an ironic campaign and we must distance ourselves from any cultural abuse coming out of any ironic support for The Giss. We don't like her in a "smart" way. We just like her. This is actually a crucial matter. Please! Understand!

Further, if this campaign comes to naught, then just wait till we get home, Football Federation Australia! We'll get into some combative letter-writing if we have to! YES.

2. We have seen a little off-Broadway play, name of "The Great American Trailer Park Musical." This involved, as we were blustering just now to Jess Ausculture, a Sally Jessy Raphael-style TV show midsequence featuring beautifully harmonised musical bellowings of "Slut!" and "Oh no she di'nt!" We even became strangely emotional at one point (ie, when the stripper had to move out of the trailer park) which was odd given the extent to which the broadly drawn characters verged on the cartoonish.

3. We like: the subway, bagels, gigantic food at every meal, Barney's department store, Greenwich Village, "tuna melt".

4. Imagine our delight to discover that THIS CITY IS FILLED TO PUSSY'S BOW WITH GAYS! Honestly! Everywhere we go, we're all, "Hang on a SECOND - we know that accent..."

5. We have been to a puppy shop. It was good, then it wasn't. We had to leave because of some overly ebullient puppies behaving in a way that could only be described as "vaguely distressing". NEVER MIND THAT.

6. We're about to go to London where we're going to see the unpredictable I'm On Your Computer (top secret fact: he is exceedingly sweet) and badger him into coming to see Girls A-bloody-Loud (OMG OMG etc) at G-A-Y next Saturday.


Strangely, IOYC seems presently unenthused about this prospect but this could just bebe the fact that we believe his "!" button to be broken.

7. We're ALSO whisking IOYC off to Stockholm shortly for a couple of nights to view Shirley Clamp and various other Swedish popstrels bang it out at a mental Xmas function, on the commendation of our favourite hand-picker of the gayest available quality Swedish pop, Popgoescanberra.


Clamp it good

We understand the above picture to feature The Clamp in her favourite blue dress. She wears this all the bloody time, it would seem, and we do hope she will have it on when we get to view her busting out all the "hitten".

8. Errrm, how about some mind-bogglingly hilarious drag queen names we've viewed recently: Melissa Sealed! Kate Tarago (that one was cleverly made up by the wonderful wonderful CFBgoespop)! Beth Israel!

9. Oh yes.

10. The misleadingly-titled "Fox News" is worse that you'd ever imagine. FOR EXAMPLE. A little girl was apparently bopped on the head by a big M&M shaped balloon in the Macy's Parade. Everytime we have the misfortune to see Fox News (such as in the tailor where we tried unsuccessfully to have the zip on our nice coat fixed) someone's banging on about this little girl and her balloon-based injury. They even spent a whole segment interviewing the mayor of New York about this PRESSING ISSUE.

11. The film version of "Rent" is out here and every reviewer HATES it. A fantastic writer we have discovered called Armond White notes that "Rent's unprepossessing screen cast merely reiterates the show's fallacious concept."

12. Which is a nice turn of phrase, and possibly quite correct.

13. (We still really like Rent even though it's based on a completely out of date pretext of Manhattan bohemia etc.)

14. We note that I'm Always Right has selected "All I Want For Christmas Is You" by Mariah Crazy as the Best Song Ever. Bitch you had better get yourself over here because it is PLAYED IN EVERY SHOP, 24 hours a day (it seems). We never tire of this song either. In fact we play Mariah's Merry Christmas album all year round and we DON'T MIND TELLING YOU that her version of "Joy To The World" is one of the best pop adaptations of an unlikely "work" ever.

15. Can someone please do SOMETHING about this journalist from The Age misstating the title of the 4th best song ever recorded by Minogue, K (rubbing salt into the wound, this unforgiveable mistake was to smugly pre-review a visiting indie icon who we secretly like). This is actually worse than when Emily Williams said she'd be performing "Hit Me Baby One More Time" on Idol.

16. Is that the time! Oh! Goodbye! More from London perhaps!