THE LITTLE TREES "HELP, I'M A FISH! (I'M A LITTLE YELLOW FISH)" - WHAT ON EARTH, AND SO FORTH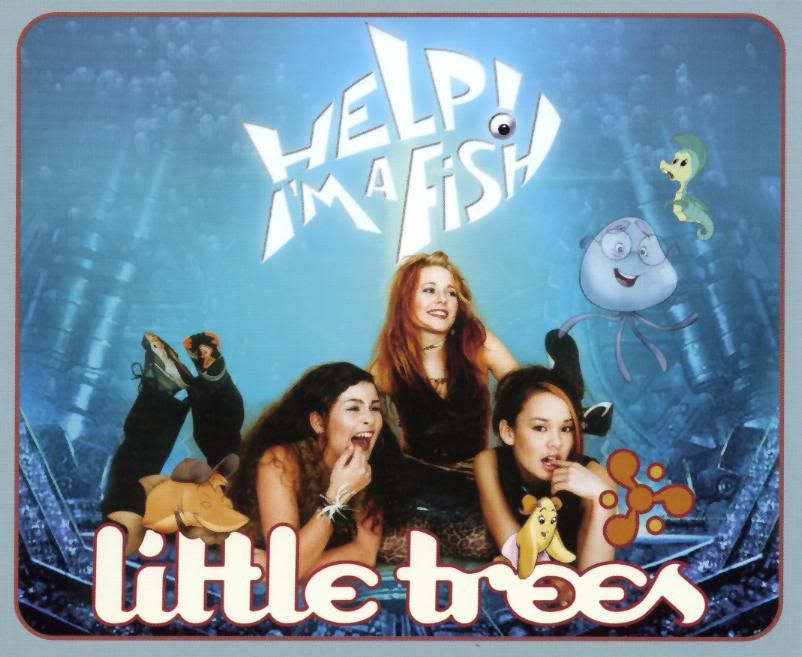 Oh viewers, you remember this lovely song from back in 2001 don't you, surely? ("No." - viewers) Antipodean viewers actually mightn't unless you were glued to Top Of The Pops when the ABC deigned to provide that show to us for a far too short period of time earlier this decade. We were working in a supermarket of sorts back then. And all we used to be able to think of on our Sunday shift as we turned a blind eye to comedy spillages in the egg aisle and helped the more hopeless of the checkout teenagers change their docket rolls again and AGAIN, was the pressing question: "What will be on our video of Top of the Pops which we have taped for post-work viewing?" Sometimes it was amazing - you'd get Steps, The A Teens and Mel B. And sometimes it'd be quite crap. For example, if Embrace or Muse had a single out. And one time, after a particularly noxious Safeway shift, we arrived back at Fop Towers to discover that the TOTP tape contained something astonishing. That night, we were introduced to The Little Trees by a pneumatic hostess who made reference to other "great Danes in pop" such as Aqua, Whigfield and The Cartoons. Looking back, she was being a bit of a rockist sow about things perhaps, but hearing the names of those esteemed artists in the forward-announce for the performance, we knew we were in for something "rather good". What we saw caused us to spend almost $20 AUD getting the song on CD single in London the following year. It was an august, ambitiously mimed live performance, containing the following elements:

* Three girls singing ONE OF THE BEST POP SONGS EVER
* Underwater/"fish-style" dancing
* People in starfish outfits
* Bubbles
* Some other generally great on-stage antics
* A crowd who cheered maniacally every chorus (and who then proceeded to enthuse equally in respect of Nick Cave IMMEDIATELY AFTER THIS PERFORMANCE

We were N-Trance entranced! And still are, to some degree.

But WHAT IS THIS "THE LITTLE TREES" BUSINESS ALL ABOUT, we hear you whimpering. Well, we are about to undertake a HALF-ARSED INVESTIGATION! Strap yourselves IN.