FOP SYMPOSIUM 2005: REVIEW #4
Can you BELIEVE our beloved Laura Gissara wasn't evicted from Idol tonight? And the too-much-hair-product one and one of the boring boys got booted. All the ones with diva potential are safe. IT IS JUST GREAT NEWS ALL ROUND REALLY.

Anyway. Let's continue with the annual Fop Symposium, with a piece in brilliantly rendered textual hues from that house of enthusiasm and sherry in our nation's capital, Pop Goes Canberra. Kindly take it, Patrick...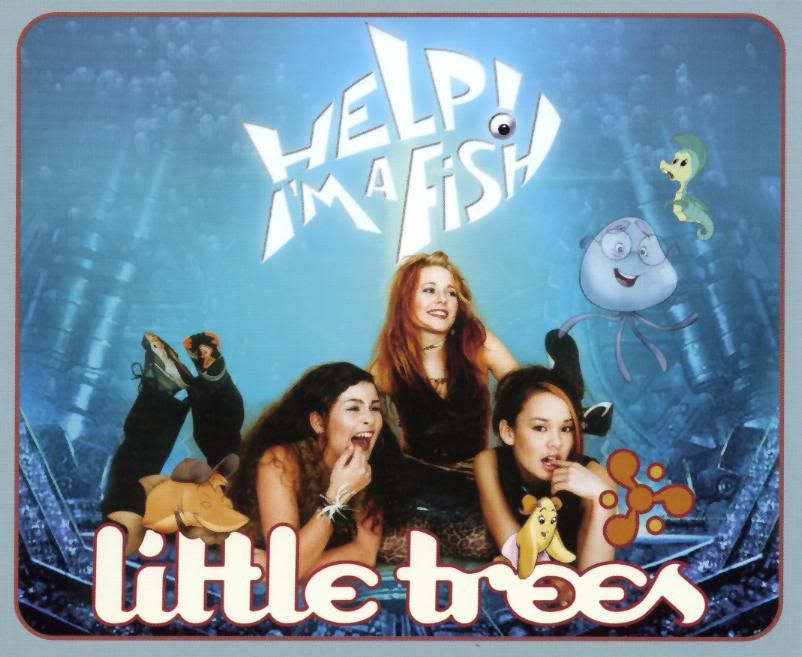 REVIEW BY PATRICK FROM POPGOESCANBERRA
EXCLUSIVE! PopGoesCanberra can exclusively reveal that Little Trees have "done a Gretel." That's right. They frequently use silly figures of speech (metaphors, similes and such other Grade 8 English type devices)! You've all heard Gretel saying things like "send Dean down the ravine" and "whose initals will Kate scratch in the nomination footpath?" Well now the fabulous Dutch girl group have enamelled their mouses, completely loosely!

Little Trees touched down yesterday in Canberra. They arrived onboard a chartered KLM Boeing 747-400. Why on earth did the sensational Danish girl group decide to visit south-eastern Australia? Surely they were too busy promoting their stage act, loosely based around Australian girl group "The Star Girls" (sans the fat one)? No, their producer Ole Evenrude had heard from his friends, the producers of the A*Teens, that Tiffani Wood, Chanel Cole and In-Grid were recording in the Bega Valley, with occasional Swedish backing vocalist/Prime TV Weather Presenter, Shirley Clamp. Yes, word was spreading of the new Australo-Swedish Mediterranean girl group, from Xenomania to Laurent Boutonnant, everyone in Europe wanted a piece of the action. The Little Trees spent a pleasant weekend "in the sticks" so to say and capped it off with a viewing of the Big Brother Live Eviction in the girls' sumptuously furnished country home media lounge. They were so impressed with Labor Leader Gretel Killeen's English skills that they decided to write a Disney movie theme song that ACTUALLY was about Canberra, their Aussie "portal" city, given that Canberra Airport is the closest to Bega that accommodates wide-bodied jets.

You see these are some lyrics that we will use to compare Canberra and "Help! (I'm a fish!)":

Do you wanna know, how living is beneath the waves?
People often say that Canberra is pretty crap. It's "beneath the waves" - get it?

Do you wanna take a whale bus, wanna meet a stupid shark?
ACTION buses provide the worst transport. EVER. Whales would be shit transport in the ocean. They are slow and big and people stand around gawking at you. On top of that, while on the bus, you're likely to meet some DERRO asking you to pat down the cat fur off their back, or talk about your jacket, or ask you for a couple of dollars to catch the whale, I mean, bus. A STUPID SHARK.

All it took was magic potion!
To have a bit of fun in Canberra? All you need is alcohol!

So anyway, The Little Trees recorded the song straight away, because there's never anything any good on Sunday nights now that they don't show movies, and there were pop svengalis hanging out to make it sound BRILL. Cue the SUBLIME END BIT.