FOP SYMPOSIUM 2005: ASSISTANCE, I AM A FISH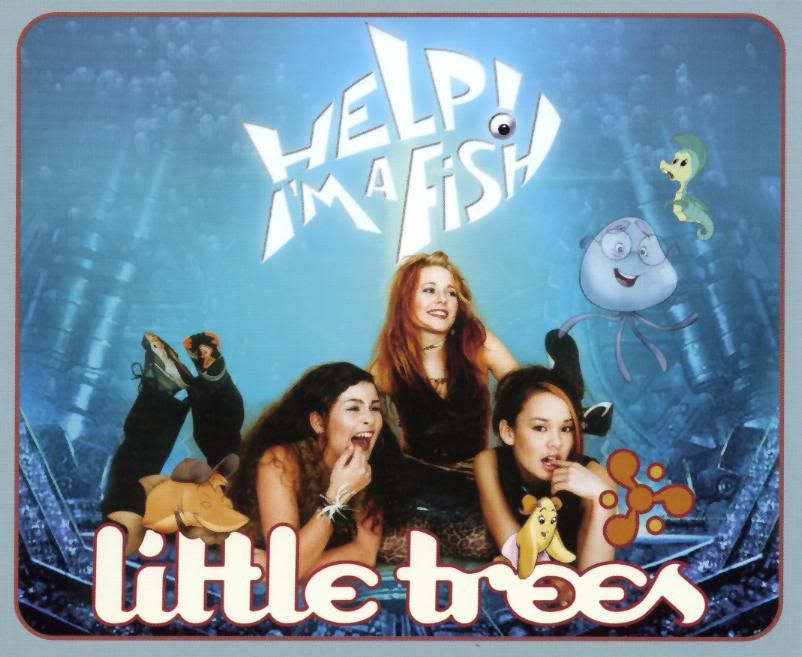 The Little Trees seem to be the sort of pop act that was "over before it really begun" (can you imagine?), and to "celebrate" that fact, the English-speaking internet pretends that the Danish girl group (whose 2001 hit "Help, I'm A Fish! (I'm A Little Yellow Fish)" is the subject of the Fop Symposium 2005) NEVER EXISTED. This is relatively irksome. However, in a dusty, neglected alleyway around the north-eastern section of the internet, we've found some useful information about The Little Trees. It's also "drafted" (as they say in some circles) in Edward's and our favourite language: ESL* (thanks to the hilarious Google "translate" facility). We were going to give you the highlights, but the whole article is so beautifully and agonisingly written, we thought we'd just quote the whole thing. Our favourite parts are in bold. (It's all excellent, though.)


Little Trees are three girls from Denmark - Marie (13), Stephanie (14) and Sophie (15). They live in Copenhagen, and know each other already since their recent childhood. Already at the age of 8-9 years the girls showed an active interest for dancing and singing, and had already at that time in their Kopenhagener dance school the possibility of proving their talent.
The producers heard of the talentierten girls, invited them to a Vorsingen and decided thereupon to write the Titelsong "I'm A Little Yellow Fish" for them. The single became prompt three-way platinum success in Scandinavia, and now Little Trees will inspire also still the remainder of Europe with this beautiful number

Marie, Stephanie and Sofie are three clevere girls. They have the full support of their parents and teachers and the necessary portion of additional energy, in order to master school and career at the same time. They have firm opinions over the world, (in which they live), and think many over the further development of their environment. This refers in particular to our planets and its inhabitants.

On own desire, Little Trees other one would like to help and support therefore with a part of its incomes a donation, which helps handicapped children by the dolphin therapy.

The name Little Trees is inspired by an age-old Apachennamen, which states as much how: "a small tree can bring large joy". Small trees ("Little Trees") were hope up and the promise for a good future.

Although it connects the large passion for dancing, are the three nevertheless very different characters - this makes Little Trees a unique, charismatischen Trio, with much personality, charm and radiant emittance.

In the first place however Little Trees stands for talent, singing, friendship, dancing, and read little but emergency leases, for much, much fun has!

"Parents, family and friends were so far the first public, now have we fortunately all the possibility of meeting the Little Trees. And hopefully they become us all much joy prepare!"

After the single publication by BMG module, will appear prospective in the autumn 2001 the first album of Little Trees.

Also the sound TRACKS to the film "assistance! I am a fish" am available in the trade. Naturally on it the Smash hit "Help I'm A Fish (I'm A Little Yellow Fish) is" from Little Trees, and Songs of other considerable artists, like Lou Bega, Ohlsen Brothers, Patricia Kaas and many more.
Sadly, to our knowledge, the BMG module "never got round" to "publishing" the Little Trees first album. So all we really have to go on is the brilliant single "Help, I'm A Fish! (I'm A Little Yellow Fish)", sadly. (There actually was a second Little Trees single which we bought for 50 euro cents in a Helsinki junk shop in 2003, but it really doesn't bear thinking about as it is quite shit indeed.)
* English as a second language