NOW THAT CAKE HAS ARRIVED, SO LOUD AND CLEAR
It fairly kills us to say it, but the current Delta single "A Little Too Late", or, as The Love Pavilion have adorably dubbed it, "A Little Blue Cake"(we now call it this also) is really the best thing she has ever done.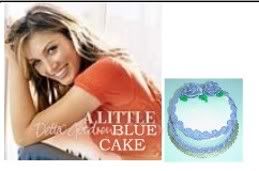 We are assuming that she hasn't tried to write this one herself, as it's actually (quite) good. And it's sort of on an almost RnB "tip", which you are meant to know by the fact she is wearing massive hoop earrings in the clip.