WE WERE DANCING ALL NIGHT LONG
WHAT ON EARTH is all this DEMENTED carry-on occuring presently about something called Bloc Party (the?). WHAT IS IT! Nobody appears capable of shutting up about "Bloc Party" for even one single MINUTE bloody.

We know we're not very indie at all over here, and that people like us, who exclaim happily over the fact that HMV Bourke Street inexplicably has approximately 1,000,000 copies in stock of the new Tina "Kissing" Cousins single in stock, don't have any real right AT ALL to be getting in the grill/s of "the latest (indie) craze". However. All we are saying is that this particular "Bloc Party" had BETTER be:

1. missing a "k" and a "The"; and
2. something that is "of, or pertaining to," the below: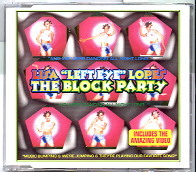 We may seriously be compelled to start some shit if this is not the case.

WE BID YOU GOOD DAY.