LOOK WHAT WE'VE DONE!
Did you think we weren't at all serious about our protection and general sponsorship of
Nikki Webster
in her Dancing With The Stars efforts? Well, you'd be experiencing a rude, rude shock right about now.
The Love Pavilion
and us have gone NIKKI MAD! And we are blog twins, for this very purpose!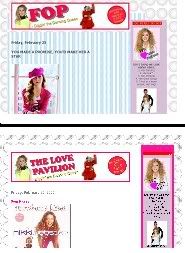 Isn't it wonderful? Can you stand it?
Over the next few weeks, you can expect SO much Nikki to be going on, between the Love Pavilion and ourselves. We'll laugh, we'll quite possibly cry. These will almost certainly be "The Best Days", of our lives...
SO BUCKLE UP.