THE JX "SESSIONS"
We have had a bit of a surprise! Here we were thinking that our little halfarsed "sponsorship" message up there in the corner of the sidebar might result in some intelligent questions about the correct application of alpha-hydroxy acid. Did we get any? No. (We would, obviously, have been happy to answer any questions along these lines, however.) But that's alright, as we're quite used to "0 comments" here at Fop. We simply do not even mind!

So we were quite taken aback when our reader, name of Scott, seemed to want to speak electronically about JX! In particular, he proffered this rather funny and piquant query:


Who was JX, in actuality? I suspect the Me'shell Ndgeocello/Skunk Anansie lead singer-esque frontwoman was not, in fact, the "mastermind".
And you are quite right to ask, Scott! Who the HELL was JX? What, of its overall "oeuvre"? Shall we attempt a little remembrance "series"? (Obviously, there is every chance this will fall in a heap by the time we get to the second single. Do you remember the Queensland Pop Diaries? We didn't even make it to Shakaya, despite our ongoing anxiety over their comedy top-5-one-week-number-47-next-week album. Still, we'll just have to see, won't we!)

Right.


JX, viewers, is damn hard to pin down, on the electronic lattice! Like Pop!, it doesn't really work very well as a search term. But since it was the olden days when JX began, we imagine this wasn't at the forefront of everyone's thinking back then. You know, we have no picture of JX to show you! BUT, what we can tell you is this:

* JX is Jake Williams!
* Possibly, he is from London!
* He named himself after one of his retro Roland keyboards!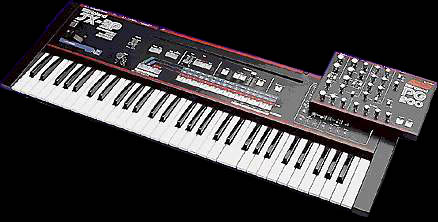 * He was 16 when he punched out his first single "Son of a gun" in 1993!
* That song changed pop! And featured his namesake keyboard!
* He claims that that keyboard offers a "raw" and "unprocessed" sound!
* Despite having been responsible for some of the most amazing pop moments of the last 12 years, he has NEVER made an album!
* But he was apparently a member of that marvellous pack of suitable-for-gays late-90s Minogue-remixers, The Trouser Enthusiasts!
* Once, Fop tried to bang together our own "notional" JX album, using everything we could find!
* In the end, this project was "abandoned"!
* Never mind it!

Do you think we should say a little something about each of the glorious pieces of disco frippery for which JX is renowned? Yes? Well, we will attempt to do so, over the next few days! Chronologically, one at a time. We might start right this second!

1993: JX "Son of a gun"


This was the first JX single ever! We didn't actually buy this, due to having spent all our pocket money on Frente digipacks and the Pet Shop Boys "Very" album. But we DID hear it on high rotation on Triple J (in the period directly before that radio station decided to begin targeting a demographic of stoned heterosexual teenage boys who were enthusiastic about McDonalds' 30 cent soft-serve cones and the repulsive band Korn). Helen Razer and Mikey Robins would play it on their breakfast show! And we have it on some mid-90s dance compliation CD that from memory also features "Dum da dum" by Melodie MC and "Wrap me up" by Alex Party (a song that surely deserves an Edward O "analysis" of its own).

Anyway, this song was RATHER GOOD. It wasn't JX's best, but it set the scene for some very good things to come. Importantly, this song established the "classic JX style". This involves:

* A bit of a womany sample, resung in an unexpectedly poignant manner, lyrically speaking
* Crunchingly thick synth riffs
* Deceptively simple production

See, what we really like about this song is the way a single lyric got hoisted out of its original context, and made into the centrepiece of a whole new affair. Part of that lyric, "A man that's on the run" is repeated three times by whoever JX's tough-sounding female vocalist du jour was. Then, as you begin to wonder if she's advertising a halfway house for unfortunate chaps on the lam, she finally gets to her all-important point. "Is a dirty son of a gun," the vocalist triumphantly concludes, as the synth riffs climax. She is ANGRY with men, who are irresponsible and on the run! She is disparaging of them! It sort of makes some sense! But she hasn't quite finished! "Dirty son of a gun, dir-dir-dirty son of a gun!" she bellows, in executive summary. "Dirty son of a gun, dir-dir-dirty son of a gun!" Then to round things out, we are treated to some emphatically repeated "Oh, ho!"s, and some "Eah, eah, eah"s, which obviously underscore the initial point. Specifically, she is most displeased with her own hapless man, who has inexplicably absconded, and is most probably uncontactable. Do you see, this song is JUST GREAT.

Here is our JX song template, all filled out for the first time.

Lyrical sample: "A man that's on the run, is a dirty son of a gun!"
Healthiness of "love relationship" expressed in song: Low
Fat synth riffs: Yes
Vocalist "portrayed" in video: White woman
Fop rating: 7/10

Tomorrow (or similar), we'll consider our sponsor song "You Belong To Me"!