OH MY GOD
Crystal
is not only thankfully BACK AT HER LIZ, but she is DOING SOMETHING that looks VERY GOOD. A benefit gig, for Stu's poor eyes.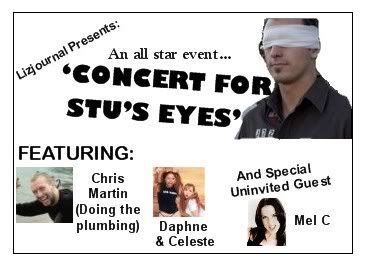 Now, if we can just get
Missy Misdemeanor Higgins
and
Alcazar
added to the lineup, we would all be in for a benefit worthy of the hosting talents of
La Killeen
.
[Further, we would like to apologise for not attending Melbourne Grogblogging. We were in Sydney (obviously not by choice). You all look extremely nice though.
Especially Guy Symposiast
And we note that
Angus
was in fact charged with teaching us a "thing or two", within the confines of the university, back in 2001! [And it's interesting isn't it viewers since he now teaches us things as part of the wider university of life that is his Type Pad!] We feel hopelessly left out, and it's our own fault of course. We did spend a raucous Saturday evening in Newtown with
Ausculture Jess
and
Sjusju
, though, if that's any good for you.]